One of MBM Corporation's premier products is the  MBM 93m Manual Paper Folder.  This tabletop folder is easy to use, economical and versatile for print shops, schools, businesses, non-profits and clubs doing a low to medium volume of folding per month.
In the $500 and less price range, the 93m offers a great value and features.  Ideal for schools, non-profits and small businesses to give a professional look to brochures and mailing.  Imagine perfectly folded brochures every time with little effort!
What is a "Manual" Folder:  User Manually moves the fold plates for desired paper fold.  "Automatic" Folders allow you to select a pre-programmed fold type from a Control Panel and the fold plates are electronically adjusted.
Quick Look
Letter, ZigZag (Z), Double and Single Fold
Feed Tray holds 150 sheets of paper
Color coded fold plate graphics for quick and easy setup
Sheet Capacity (Paper weight): 150 (16-80lb offset)
Paper size:  4″x 5″ to 8 1/2″x 14″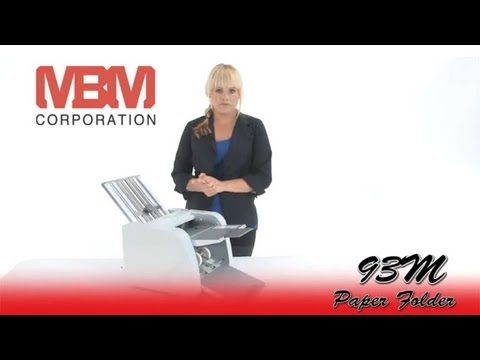 The 93m has 2 fold plates that are adjusted by referencing a color coded guide for each for type.  Color coding = Ease of use for setting up the right fold the first time.  The plates are adjusted by thumb screws, sliding each of the 2 plates to the correct position, as indicated by the handy Instruction Guide which is on the paper folder.  The Guide gives you setup for 4 paper folds:  Letter, ZigZag (Z), Double and Single Folds.  Because you manually adjust the plates you can also create custom folds to suit your special projects with the MBM 93m Paper Folder.
Once in use, the MBM 93m has a batch counter and, a great feature in this range of folders, an automatic shutoff at the last sheet.  This saves on the motor, wear of the folder and you do not have to count out the exact number of sheets for smaller batches.   The feed tray holds 150 sheets, which in low to medium volume, is a nice capacity.  The powered exit tray is a second feature unique, allowing for neat and orderly stacking.  This is particularly useful when needing to keep in alphabetical or numerical order.
| | | |
| --- | --- | --- |
| Color Coded Fold Set-Up | | Fold Tray |
Tips

Fan paper stack before loading into paper feed
Do not use staples or paper clips through folder
Not for use with Glossy paper
No staples or paperclips, single sheet folds only
Maintenance
Keep clean of paper debris and dust
Wipe down Paper Feed and Rubber Folding Rollers
Consumables

Where to Find
For more information or to purchase the MBM 93m Manual Tabletop Folder
Google+