Check out our video below to see the Dahle 41422 CleanTEC Cross-Cut Shredder in action.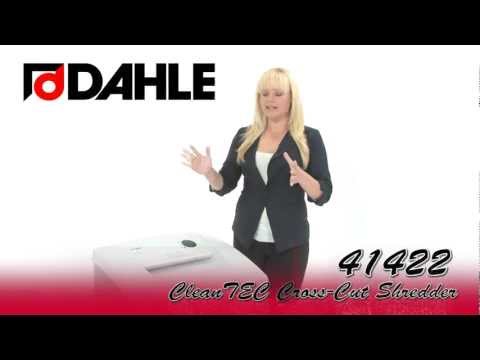 Transcripts
Hi, I'm Holly with Mono Machines and this is the Dahle 41422 Clean TEC Cross-Cut Shredder.  It's a level 4 security shredder that makes it a great choice for office use.  Come on in I will show you how to use it.  Its got a 10.25 inch throat.  It can shred up to 15 sheets of paper at one time, it can also tear through CDs, DVDs, staples and paperclips.  Check this out.  Its got ESP.  This is the electronic sensing protection system.  It tells you if you are putting too much paper in and will virtually eliminate paper jams.  Also this machine has an auto oiler.  This light will come on if you need to add oil.  But what I love about this machine is the safety technology.  If for any reason you need to stop this machine from shredding you will simply say stop and it does.  That's the voice command shut off.  Heaven forbid your tie or your hair gets stuck in this machine simply say stop and it will.  But what really sets this machine apart from its competitors is this is the only one on the market that has an air filter.  Its the Clean TEC filter system.  Its got an air filter in the back that looks just like this and when you are shredding paper particles get released in the air, you can inhale those particles it's very unhealthy.  This filter is gonna capture those particles and create a cleaner working environment for you and your co-workers.  Down here we have a 30 gallon bin and I'm gonna show you what your shred is gonna look like, look at that beautiful cross cut shred.  Now keep in mind this is the only shredder on the market with an air filter.  It's also Germen made.  Its got a chain driven motor.  Its gonna last a very long time.  Thanks for watching,  I'm Holly with Mono Machines.
Dahle 41422 Quick Overview
Innovative DAHLE CleanTEC® filter system for reducing fine dust. Made of special 3-ply, fully recyclable non-woven material and can be changed quickly and easily.
Permanent measurement of paper volume for uninterrupted shredding.
Automatic acoustic switch-off function stops the motor instantly.
Solid-steel cutters in special steel can cope with paper clips and staples.
Multi-function control panel for fast, easy operation.